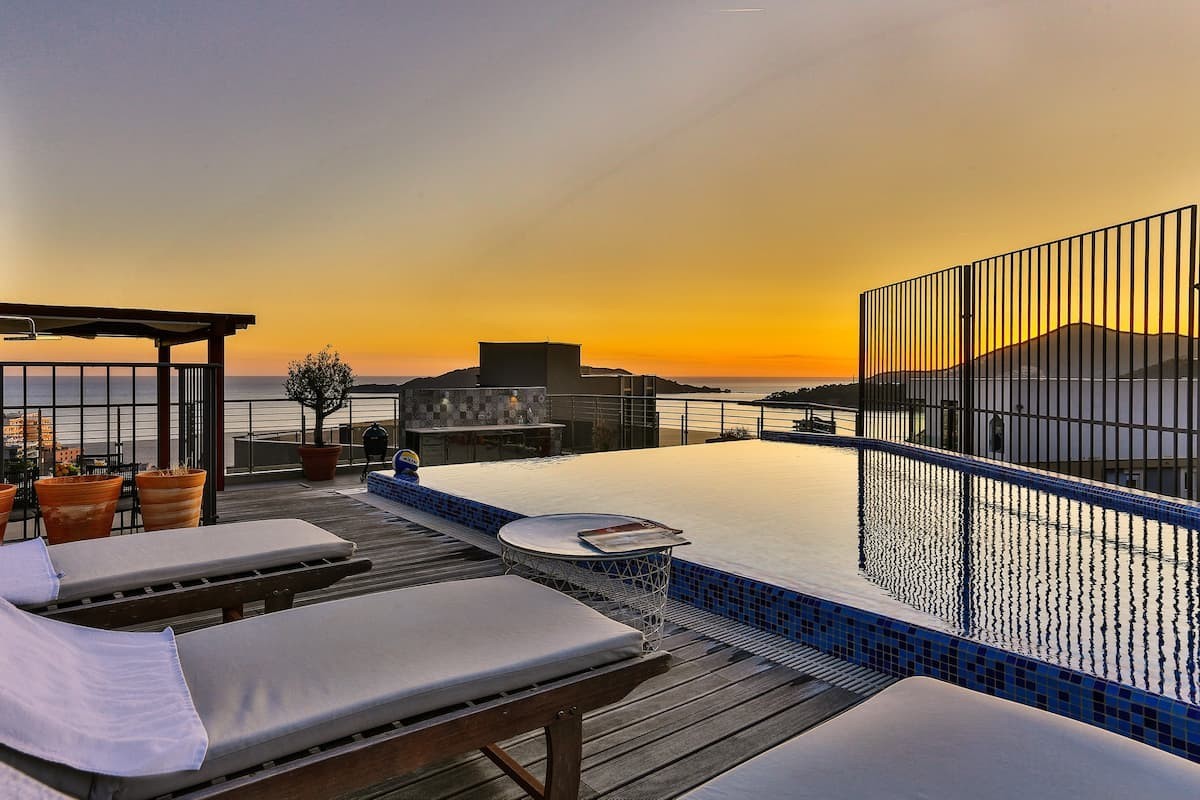 Luxury Skyfall Penthouse
5.0
Premium Apartment in Rafailovići (Budva Area), Montenegro Coastline
From the moment you enter, you are surrounded by luxury and extravagance! Three bedrooms, each with a beautifully designed bathroom, guarantee you comfort. One of the special features of this penthouse apartment is a spacious terrace with a private, heated pool (from April to October) and an exceptional sea view.
Here you will find a comprehensive display of amenities and facilities that the villa of your choice has. Let us know if we can provide anything else for you.
General
Wi-Fi

High speed Wi-Fi (info +50 MB/s)

Fully Equipped Kitchen
Pool & Wellness
Private

Outdoor

Hairdryer
Living & Dining
Sofa

Armchairs

Smart TV

DVD Player

Indoor Dining Area
Kitchen
Kitchen utensils

Cutlery&Drinks

Fridge&Freezer

Coffee machine
Health & Safety
Covid-19 Care&Prevention

Non-smoking

Quiet area
Outdoor activities
Watersports nearby

Walking/Hiking Paths
See the map below for exact location of your villa, access roads and the nearby attractions.
Nearest Airport
Airport Tivat
25.0 km
Nearest Beach
Nearest Beach
1.0 km
Extensive archaeological evidence places Budva among the oldest urban settlements of the Adriatic coast. Substantial documentary evidence provides historical references dating back to the 5th century BC.
Illyrian helmet from Budva (4th century BC)
The Old town in 1615.
A legend recounts that Bouthoe (Βουθόη - Bouthoē) was founded by Cadmus, the founder of Thebes, Greece, when exiled out of Thebes, finding a shelter in this place for him and his wife, goddess Harmonia.
Greek colonization of Adriatic began in the 4th century BC, when an Emporium was established on the site of Budva. In the 2nd century BC, the area of Budva became part of the Roman Empire. Upon the fall of the Empire and its division into east and west, the defensive barrier which separated the two powers happened to run across this area, subsequently making a lasting impact on the history and culture of this town.
In the 6th century, Budva was part of the Byzantine Empire, and in the following two centuries, Slavs and, to a lesser extent, Avars began to arrive in the area, mixing with the native Roman population. Budva bay was reportedly known as Avarorum sinus (Avar bay') during the Avar incursions. In 841, Budva was sacked by Muslim Saracens, who devastated the area.
In the early Middle Ages, Budva was reigned by a succession of Doclean kings, as well as Serbian and Zetan aristocrats.
The Venetian walls of Budua (Budva) on a 1900 postcard
Circa 1200, it became the see of a Roman Catholic Diocese of Budua, which lasted until 1828 and was nominally revived as a Latin titular bishopric. The Venetians ruled the town for nearly 400 years, from 1420 to 1797. Budva, called Budua in those centuries, was part of the Venetian Republic region of Albania Veneta and was fortified by powerful Venetian walls against Ottoman conquests. According to the historian Luigi Paulucci in his book "Le Bocche di Cattaro nel 1810" (The Bay of Kotor in 1810), most of the population spoke the Venetian language until the beginning of the 19th century. One of the most renowned theater librettists and composers, Cristoforo Ivanovich, was born in Venetian Budua.
With the fall of Republic of Venice in 1797, Budva came under the rule of the Habsburg Monarchy. During the Napoleonic Wars, Montenegrin forces allied with Russia took control over the city in 1806, only to relinquish the city to France in 1807. French rule lasted until 1813, when Budva (along with Boka Kotorska) was ceded to the Austrian Empire, which remained in control of the city for the next 100 years.
A union of Boka Kotorska (and Budva) with Montenegro took place for a brief period (1813–1814), but from 1814 until the end of World War I in 1918, Budva remained under Austria-Hungary. The southernmost fortress in the Austro-Hungarian empire, Fort Kosmač, was constructed nearby to guard the road from Budva to Cetinje. After the war, the Serbian army entered Budva after it was abandoned by Austrian forces and it came under the Kingdom of Yugoslavia.
In 1941, with the beginning of World War II, Budva was annexed by the Kingdom of Italy. Budva was finally liberated from Axis rule on 22 November 1944 and incorporated in the Socialist Republic of Montenegro (which was a part of the Socialist Federal Republic of Yugoslavia).
A catastrophic earthquake struck Budva on 15 April 1979. Much of old town was devastated, but today there is little evidence of the catastrophe – almost all the buildings were restored to their original form.
Montenegro became an independent country in 2006, with Budva as its primary tourist destination.
Departure Airport
Airline
Mo
Tu
We
Th
Fr
Sa
Su
Belgrade

, Serbia

Istanbul

, Turkey
Podgorica Airport
Podgorica Airport (also known as Golubovci Airport; IATA: TGD, ICAO: LYPG) is located in Golubovci, 12 km south of the Montenegrin capital, Podgorica.
Airport website
Departure Airport
Airline
Mo
Tu
We
Th
Fr
Sa
Su
Athens

, Greece

Barcelona

, Spain

Belgrade

, Serbia

Berlin

, Germany

Dortmund

, Germany

Brussels

, Belgium

Istanbul

, Turkey

Krakow

, Poland

London

, United Kingdom

Luxembourg

, Luxembourg

Vienna

, Austria

Budapest

, Hungary

Ljubljana

, Slovenia

Milan

, Italy

Rome

, Italy
Dubrovnik Airport
Dubrovnik International Airport (IATA: DBV, ICAO: LDDU) is one of the largest international airports in Croatia. The airport is located in Čilipi, 13 km south of the old town of Dubrovnik.
Airport website
Departure Airport
Airline
Mo
Tu
We
Th
Fr
Sa
Su
Amsterdam

, Netherlands

Rotterdam

, Netherlands

Stockholm

, Sweden

Athens

, Greece

Barcelona

, Spain

Madrid

, Spain

Belgrade

, Serbia

Berlin

, Germany

Düsseldorf

, Germany

Frankfurt

, Germany

Munich

, Germany

United Kingdom

, United Kingdom

Birmingham

, United Kingdom

Bristol

, United Kingdom

London

, United Kingdom

Luton

, United Kingdom

Manchester

, United Kingdom

Bergen

, Norway

Oslo

, Norway

Bordeaux

, France

Paris

, France

Lyon

, France

Marseille

, France

Nantes

, France

Toulouse

, France

Brindisi

, Italy

Rome

, Italy

Naples

, Italy

Venice

, Italy

Brisel

, Belgium

Copenhagen

, Denmark

Moscow

, Russian Federation

Dublin

, Ireland

Edinburgh

, Aruba

Geneva

, Switzerland

Zürich

, Switzerland

Helsinki

, Finland

Istanbul

, Turkey

Katowice

, Poland

Warsaw

, Poland

Poznan

, Poland

Warsaw

, Poland

Bucharest

, Romania

Prague

, Czech Republic

Riga

, Latvia

Tel Aviv

, Israel

Vienna

, Austria

Vienna

, Austria

Vienna

, Austria

Vilnius

, Lithuania
Tirana Airport
Mother Teresa Tirana International Airport (IATA: TIA, ICAO: LATI) . It is the largest and only international airport in Albania.
Airport website
Departure Airport
Airline
Mo
Tu
We
Th
Fr
Sa
Su
Vienna

, Austria

Nikola Tesla- Belgrade

, Serbia
Now the Good (and there is plenty of it)
Regardless of time of year, this is one of the most beautiful stretches of coastline there can be, with in-numerable opportunities to be in a setting usually only seen in the holiday brochures. Ice blue seas, sandy coves set into the mountains, providing a contrast of geography that must be very unusual.
The locals are wonderful. Despite any language barriers they will put themselves out to help and the overall service standards are above the norm.
Away from the coast there are any number of gems to be un-earthed, wether relating to Montenegro's military history (it is a fascinating tale of the little guy beating off bigger and stronger armies over many centuries), religious past (surely a world record for the most monasteries in in-accessible places) or natural wonders such as Skadar Lake. Anyone going for just a 'beach holiday' will surely be missing out.
Despite the rapid development you can still find gems such as Perast, where you can sit and sample  wonderful seafood at a table overlooking a beautiful little harbour.
Like all holiday resorts, if you make an effort to move away from the main centres it soon becomes possible to enjoy the beach, if not in isolation, then in relative peace without the issues of overcrowding. All the beaches have at least one Greek style Taverna, where you sit in the shade, sip a cooling drink and curse the inevitability of having to return to work!
If you like seafood you have come to the right place. You may not know what you are eating (the Montenegrins do not seem to have agreed on single species names and the same fish could have a different name in two restaurants adjoining each other), but you will be presented with a fantastic choice of fresh fish, able to choose the one you would like cooked. They charge by weight and categorise as to rarity, so you could spend quite a lot in theory. In practice, you can eat like a king, and enjoy the excellent local Vranac (red) or Krstac (white) wines for an average of less than €10 per head.
Service levels are almost without fail better than average and the waiters will be keen to advise you on the days fresh or special dishes, without fear of you being ripped off.
Prices are still relatively cheap. It is a mix of cash and card society. In most restaurants, shops, petrol stations you can use Visa, MasterCard or other cards. Also, there are cash machines in urban areas, and their number is increasing. Make sure you bring some cash if you are going for a visit to a remote village in the mountains. 
From
To

Price

Per Night

Per Week
Min

Stay

26/05/2023
28/05/2023

€400

€2,800

1 night
01/06/2023
30/06/2023

€350

€2,450

2 nights
01/07/2023
09/07/2023

€420

€2,940

2 nights
10/07/2023
18/07/2023

€500

€3,500

2 nights
19/07/2023
25/07/2023

€500

€3,500

2 nights
26/07/2023
20/08/2023

€500

€3,500

2 nights
21/08/2023
31/08/2023

€420

€2,940

2 nights
01/09/2023
30/09/2023

€350

€2,450

2 nights
01/10/2023
31/10/2023

€300

€2,100

2 nights
Exact prices are shown in Euro. Other currencies are just for comparison.
Airport Transfer- per booking
Room Service- per booking
Yacht rental- per booking
Concierge Service- per booking
Exact prices are shown in Euro. Other currencies are just for comparison.
Check-in: 14:00 h

Check-out: 10:00 h

Max guests: 6

Pets: Not Allowed

Smoking: Not Allowed

Large Gatherings: Not Allowed
| Before checkin | Refundable | Advance Payment |
| --- | --- | --- |
| 0 - 14 days | 0% | 100% |
| 15 - 29 days | 50% | 100% |
| 30 - 500 days | 90% | 40% |
Thank You so much for the experience! I usually don't ever leave reviews but this place was just amazing. The penthouse is as good as it gets. Also hosts were really helpful and answered really quickly if we needed anything. If you are looking for a place with private pool area in Budva, I don't think you can find a better place.
PDF Brochure
Add extras to your Reservation